A Discussion on Shared Governance in Nursing Sample Essay
A Discussion on Shared Governance in Nursing Sample Essay
A Discussion on Shared Governance in Nursing Sample Essay
Introduction
The shared governance leadership model was popularized in the 1980s to empower nurses to take control of decision-making in healthcare settings. Over the past 40 years, shared governance has become the core of hospital governance across the nation 1.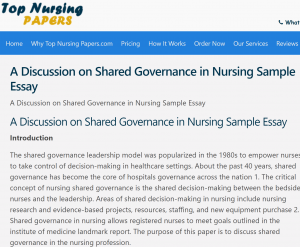 The critical concept of nursing shared governance is the shared decision-making between the bedside nurses and the leadership. Areas of shared decision-making in nursing include nursing research and evidence-based projects, resources, staffing, and new equipment purchase 2. Shared governance in nursing allows registered nurses to meet goals outlined in the Institute of Medicine's landmark report. The purpose of this paper is to discuss shared governance in the nursing profession.
Are you looking for such an essay? Order an original nursing essay assignment from the best papers essay writers
Shared Governance in Nursing
Shared governance in nursing is not new in the nursing community. It is a set of policies and regulations that enable nurses to participate in the decision-making process 1. The idea behind shared governance is to share responsibilities among the group members instead of just one member of the group. The American Nurses Credentialing Center (ANCC) incorporated shared governance as a provision for excellence when it established its Magnet Recognition Program for hospitals and medical centers. According to 2, nursing shared governance is the pillar of the ANCC Magnet culture. The application of the model in a hospital promotes better nurse satisfaction and improved patient outcomes. A healthcare organization that wishes to implement shared governance should first have a better understanding of the model, including pitfalls 2. Open communication and collaboration among team members are the best practices for overcoming these and other potential barriers to the implementation of shared governance.
Role Of Nurse Managers/Leaders in Promoting Shared Governance
Shared governance cannot be successful without the support of nurse managers. These individuals can support shared governance in several ways. For example, nurse managers may act as developmental facilitators, work together with committee members function smoothly, and be able to observe both sides of the issue to avoid bias 1. Nurse managers can address questions, serve as guides and catalysts, as well as foster creativity and productivity. Nurse leaders must clearly explain shared governance and its importance to other nurses. Clinical staff members should be aware that shared governance allows for change and improvements within the care setting 1. It improves problem and solving ability since people collaborate to make shared decisions.
Additionally, it is the responsibility of nurse managers to create a structure of shared governance. The shared governance model usually entails a council, committee, or task force that determines and promotes best practices within healthcare settings. The structure of shared governance should include chairs and co-chairs. It should also observe rules and order for meetings, agendas, and minutes.  Registered nurses should receive proper training and education to enable them to understand that the program is not meant to add burden, but to allow nurses to refocus their efforts towards achieving optimal health outcomes. Write my nursing paper now on Shared governance in nursing.
Another important role of a nurse manager is to make shared governance accessible. A shared governance council or committee should include interdisciplinary team members with varied options. According to 1, meetings should be held in schedules that allow for phone, video, and in-person attendance and should be accessible to all. Nurse leaders should prioritize coaching by providing ongoing support for meeting planning, data analysis, and skills development to foster success 1. They should also recognize team members for their accomplishments and share positive results with other committees to highlight accomplishments.
Issues of Concern in Shared Governance in Nursing
Incorporating bedside nurses in shared governance can be challenging due to the increased level of work and time commitment associated with the beginning of a shared governance structure. Most bedside nurses work 12-hour shifts while having a home life and furthering their education at the same time 2. These commitments may challenge nurses in participating in the shared decision committees. Nurse leaders can address this issue by making flexible meeting times. For example, the shared governance council meetings can be scheduled during nights and weekends to make them accessible to most people.
Clinical Significance of Shared Governance in Nursing
Shared governance in nursing improves patient outcomes, which is the most significant clinical outcome associated with it. Literature has shown improved results for nursing-sensitive indicators such as hospital-acquired pressure ulcers, catheter-associated urinary tract infections, falls with injuries, and central line-associated bloodstream infections using shared governance structures and processes. It also leads to improved job satisfaction among nurses. Nurses are more engaged in policy development and revision to improve the working environment. successfully shared governance programs and structures assist healthcare organizations with internal succession planning.
Conclusion
The critical concept of nursing shared governance is the shared decision-making between the bedside nurses and the leadership. The idea behind shared governance is to share responsibilities among the group members instead of just one member of the group. Nurse managers have an important role to play in promoting shared governance in healthcare. Shared governance improved patient outcomes and improved nurse satisfaction.
References
The list of references follows.
Also Read: