5 Issues Nurses Face in their Career Sample Essay
5 Issues Nurses Face in their Career Sample Essay
Nurses play a vital role in healthcare settings as primary care providers. Their work and professionalism are however affected by different issues that they face in their workplace. Five issues that nurses face in their careers include inadequate staffing, mandatory overtime, safety on the job, workplace violence, and self-care issues. The above issues affect the nurses' ability to provide quality, safe, and patient-centered care.  It is therefore vital for the nurses alongside their leaders and other stakeholders in the healthcare sector to lobby for the welfare of the nurses to improve their working conditions and boost their morale while at the same time creating a safe environment for the delivery of healthcare services (reference). This paper will look at how the above issues affect nurses in their careers.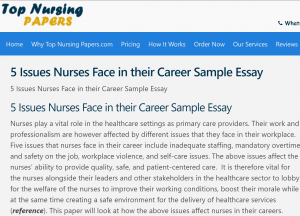 Inadequate staffing is a significant health issue that is attributed to cost-cutting decisions, an aging population, and increased patient complexity (reference). Insufficient nurse staffing results in the rationing of time in care between the nurses and the patients. Inadequate nurse staffing threatens patients' safety and health, resulting in the complexity of care while at the same time increasing the nurses' pressure, injury rate, fatigue, and ability to provide care. The American Nurses Association recommends that the nurse staffing ratios be addressed to counter the flux in the daily hospital requirements. The nurse-patient ratios should be addressed to ensure that nurses get adequate time with the nurses with the ultimate goal of allowing the establishment of therapeutic relationships and allowing for follow-up at different intervals of the care process.
Are you looking for such an essay? Score an A with our online nursing essay writing service.
            Safety on the job is another issue that affects nurses and which could affect their health and ability to provide care. Safe patient handling is aimed at minimizing the nurses' danger at work. The nurses are exposed to dangers such as hospital-acquired infections especially if they do not put preventive measures in place, back pains and needle stick injuries, and blood-borne injuries. There has been a campaign that includes greater education and training among the nurses, the provision of workplace information regarding the use of assistive technology, and the provision of guidelines as well as resources that prevent injuries. The resources include the provision of personal protective equipment to protect them from acquiring infections (reference).
Workplace violence is another issue that is among the top 5 issues in nursing. Healthcare workers and social service workers are at an increased risk of work-related assaults that are linked with violent behavior from their patients, the patient's families, and residents (reference). The departments that pose the highest risks include inpatient and acute psychiatric services, high-volume urban emergency departments, social services, and residential services, geriatric long-term care settings, and high-volume urban emergency departments.  Nurses should be educated and empowered to deal with workplace violence to protect themselves and the welfare of the patients that they need to care for. Get an essay on issues facing nurses now.
Mandatory overtime refers to working overtime due to inadequate staffing as well as job turnover. Mandatory overtime results in the creation of a burden on other nurses. Mandatory overtime has been linked with creating loopholes for medical errors as well as driving nurses further from the bedside. It is important to acknowledge that nurses need adequate time to establish therapeutic relationships with patients(reference). Mandatory overtime, therefore, piles pressure on the nurses inhibiting collaboration with other healthcare professionals, fatigue and burn out and the development of negative attitudes. The nurses should be trained in fatigue management to improve their coping skills and productivity in case of inadequate staffing. Nursing burnout essay
The last issue that is of significance in a nursing career is improving self-care among nurses. Self-care is important for nurses to ease the effects of stress and burnout that are associated with the healthcare environment. Due to the changes and unpredictability of the healthcare environment, nurses might experience negative effects which could have a direct impact on the quality of care and interactions with the patients. Self-care is nourishing and therefore nurses should engage in activities that they consider pleasurable and fulfilling. They can go for walks, engage in their hobbies, read books, watch their favorite TV shows, meditate, go to the gymnasium or even go to therapy to help them replenish lost energy(reference).
Are you looking for such an essay? We have top nursing essay writers ready to help.
The five issues addressed above are significant in ensuring that nurses carry out their duties and responsibilities in providing patient care. Self-care, workplace violence, safety on the job, mandatory overtime, and inadequate staffing are five things that affect nurses' careers and should be looked into by the stakeholders. It is vital to acknowledge that nurses need to work in favorable work environments with minimal risks such as violence and exposure to infections. It is therefore important to create a conducive environment that enables nurses to be productive in society. Besides educating the nurses, policies need to be adopted to support the initiative to minimize high turnover rates and ultimately support the achievement of positive health outcomes. Find more topics on issues facing nursing in our list of popular nursing topics, for example, discrimination in nursing.
References
The list of references follows
Also Read: