Explore What the Future in Nursing will be like Sample Paper
Explore What the Future in Nursing will be like Sample Paper
Explore What the Future in Nursing will be like
A wide range of factors is driving job growth among nurses in nurses. They include an aging population and an increased demand for preventive healthcare among others (Shaffer et al., 2019). An aging population is likely to have a high demand for care, especially for chronic illnesses which shows that more nurses will be required to provide care. Similarly, the utilization of more preventive care among the population shows that there will be a need for nurses to manage the rising demand for care. Therefore there will be a need for more registered nurses and a quick transition from nursing colleges to healthcare organizations. Count on topnursingpapers.com writers for essays like this. Click here to order a nursing essay on the Future of Nursing.
Expansion of Telehealth
Telehealth supports the provision and access to healthcare services through video calls, video conferencing, and mobile health applications. Telehealth is an effective and convenient way of remotely communicating with patients in the comfort of their homes.  The technology has been widely adopted especially in the wake of the COVID-19 pandemic which has resulted in the overcrowding of healthcare facilities. Telehealth provides an opportunity for wellness checks, health promotion, and patient care.
Growth of Health Informatics
Health informatics refers to a field of science that is involved in the acquisition, storage as well as retrieval of healthcare information.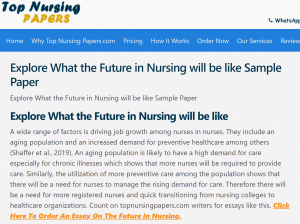 It ensures optimal collaboration between members of the interdisciplinary teams to ensure the safety of patient medical records as stipulated by the Health Insurance Portability Accountability Act. Professionals that demonstrate informatics skills are likely to show excellent skills in the management of care and making informed clinical decisions. Nurses will therefore be in a position to arrange, analyze data, and group data to be used for research and other uses.
Have a look at a sample nursing informatics and patient safety paper 
Increased Nursing Specializations
Nursing professionals have the benefit of choosing from a variety of areas among them pediatrics, geriatric, midwifery, and informatics. Nurses can therefore choose a specialty based on their career interests and preferences. It is vital to acknowledge that after attaining a Bachelor of Science in Nursing Degree, nurses would need to further their education by probably doing master's programs to earn certification in their preferred areas of specialization.
The Emergence of more Outpatient Centers
There is a growing trend in the rise of outpatient centers as hospitals struggle with high nurse turnover rates in inpatient care centers. A rise in outpatient centers is a job opportunity for nurses. Due to influx in the inpatient care, the rise in outpatient centers is likely to decongest hospitals while giving more nurse graduates opportunities to work.
Advances in Health Technology
Innovations in the healthcare sector play a significant role in nursing. They support the delivery of quality and safe healthcare as the nurses must keep up and equally be compliant with advances in technology. There is a need for nurses to go through in-service training on the use of new technology to support their utilization and achieve the desired results. Some of the technologies that nurses must keep up with include automated IV pumps, smart beds, telehealth, and mobile apps as well as centralized command ups among others.
Nurse Practitioners taking Bigger and Independent Roles
A continued drop in the number of physicians has resulted in nurse practitioners taking on bigger roles in the healthcare sector. Some of the roles that have been traditionally held by doctors like medication prescription, patient examination, and advising are being carried out by the nurses. The above has been achieved through changes in state policies regarding the nurse practitioners' scope of practice. The expanded scope of practice among nurse practitioners has resulted in better service delivery, especially amidst a shortage of physicians in the inner cities.
Explore What the Future in Nursing will be like essay example paper
Nursing Education
A notable change has been seen in nursing formal education. Patients' needs have become more complex which communicates the need to have nursing professionals with higher educational attainment. In the year 2010, the Institute of Medicine (IOM) recommended that by the year 2020, more than half of the registered nurses should have a bachelor's degree in nursing (Palatnik, 2016).  Employers similarly have expressed a preference for employees with bachelor's which shows the demand for the attainment of high education levels.
Changes in patients' needs, the complexity of the healthcare system as well as changes in nurses' roles and responsibilities are likely to change how the future of nursing will be like. Trends like nursing education, independent nurse practice, informatics, advances in technology, the emergence of outpatient centers, and expansion of telehealth, and growth of jobs are likely to determine the future of nursing.  See top nursing education topics for research here.
Related;
What does the future of the nursing industry look like?
What is your vision of nursing for the future?
What future changes are expected in nursing?
How do you shape the future of nursing?
References
Palatnik, A. (2016). The future of nursing: leading change, advancing health… how are we doing. Nursing Critical Care Vol. 11(3) p4
Shaffer, F.A., (May 31, 2019) "Overview and Summary: Past, Present, and Future: Nurses Address the Times of Our Lives" OJIN: The Online Journal of Issues in Nursing Vol. 24, No. 2, Overview and Summary.
Also Read: