Defining Nurse Practitioner and Physician Careers Sample Essay
NB: This is a sample essay – the format: Referencing and formatting not fully included.
Defining Nurse Practitioner and Physician Careers Sample Essay
Introduction
Every second, millions of people are seeking healthcare services everywhere around the globe. The Healthcare industry is one of the largest in the world. The Healthcare industry is also one of the largest providers of jobs in the United States. There are different kinds of healthcare providers based on one's area of specialization (reference). Nurses and doctors are the most commonly recognized healthcare workers by many people. The purpose of this paper is to discuss the similarities and difference that exists between nurse practitioners and physicians.
Similarities Between Nurse Practitioners and Physicians
Although nurse practitioners and physicians are known to have several differences in terms of career paths, they share several common skills and responsibilities. For example, both nurse practitioner and physician careers require the completion of an advanced degree and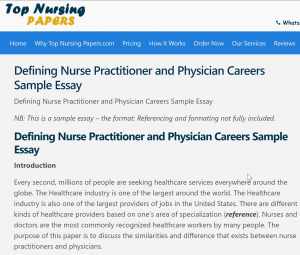 professional licensure (reference).  In both careers, the exact licensure criteria may change depending on the location and residence. Nurse practitioners and physicians have some common issues about their specialization. For instance, nurses and physicians can specialize as they wish based on their prefeed field of study or patient demographic, informing each area of study. They both can specialize in areas such as adult and geriatric health, psychiatric and mental health, as well pediatric health (reference). Both Nurses and physicians share common skills such as quick problem-solving, empathic communication skills, detail-oriented organizational skills, and leadership skills. These healthcare providers work in the same environment with one goal of providing quality healthcare services to achieve positive patient outcomes (reference). It is not surprising to see that both careers share a lot of common ground related to their work environment.
Are you looking for such an essay? Order an original nursing essay assignment from the best nursing essay writers
Differences Between Nurse Practitioners and Physicians
The Difference in Availability and Flexibility
As a student or a healthcare professional, it is important to know the differences that exist among the healthcare workers (between nurse practitioners and physicians). Understanding the differences between nurse practitioners and physicians will enable healthcare providers to successfully plan long-term goals and improve commitment (reference). Many duties may overlap; however, the roles of nurse practitioners are different from physicians' roles in terms of flexibility and scope. For example, a nurse practitioner will always be available for immediate assistance to the patients sooner than a physician. Hence, nurse practitioners often serve as a frontline defense in assisting patients (reference). Additionally, these two professionals differ in terms of their educational requirements. Based on the little illustration above, it is to say that nurse practitioners have more availability than physicians. Patients who seek immediate attention can benefit from the help of nurse practitioners since they are often readily available.
The Difference in Educational Requirements
In terms of educational demands, a nurse practitioner spends a bit fewer years during post-secondary education training than a physician. However, it is important to note that although nurse practitioners take fewer years to complete their education, the field is no less important to the field and is established to open doors for nurses who wish to advance their careers (Duquesne University, 2021). Most physician roles have higher educational requirements than nurse practitioners. As a result, nurse practitioners often spend more time in clinics and facilities helping patients than the amount of time they append in lectures.
Looking for Defining Nurse Practitioner and Physician Careers essay like? Do my nursing paper
According to (reference), there is a difference regarding the educational paths to becoming a physician versus a nurse practitioner. Most nurse practitioners are required to earn a master's degree in nursing. However, other nurse practitioners pursue a doctor in nursing practice (DNP) graduate degree. On the other hand, physicians are required to a bachelor's degree in a relevant pre-med discipline then accomplish a medical school and residency. The time is taken to become a physician or a nurse practitioner also differs (reference). Generally, it takes more time (about 11 years of post-secondary education) to become a physician. On the other hand, it takes about six to eight years to become a nurse practitioner.
 Differences in Growth Outlook
Nurse practitioners have an impressive growth outlook. The nurse practitioners' position is projected to have an impressive 45% growth outlook by 2029, which is several times higher than other trends, according to the BLS (reference). However, physician roles are projected to increase only by 4% by 2029. So, the field of the nurse practitioner is growing more rapidly than the field of the physician.
Differences in Roles and Responsibilities
Nurse practitioners are typically charged with two major duties, such as coordinating patient care and providing healthcare on a primary care and specialty level. The spectrum of the latter duties may vary from one state to another. However, nurse practitioners are allowed to prescribe medications and order tests (reference). In some states, nurses are allowed to provide specialized care with specific patient demographics such as patients with mental disorders, children, pregnant women, and others. Although nurse practitioners often work under the supervision of a physician, there are cases when they can operate independently (reference). Since nurse practitioners can perform duties similar to those of a physician, they are normally referred to as mid-level providers.
On the other hand, physicians provide an in-depth scope of diagnosis and treatment of a patient's injuries or illnesses. Physicians execute their duties through patient examinations and diagnostics, the study of medical history, medication prescriptions, and counseling on long-term health-related elements such as diet and preventative healthcare (reference). Physicians often work in one or more specialties and treat a broad spectrum of conditions encountered in everyday life.
Looking for Defining Nurse Practitioner and Physician Careers essay? Get a custom nursing essay
Differences in Prescriptive and Full Practice Authority 
As opposed to physicians, many states limit nurse practitioners' ability to prescribe to the full extent of their training and education. Although Nurse practitioners may have the authority to prescribe in many states, they lack full practice authority that allows them to prescribe to the full extent of their education and training (reference). Additionally, while physicians are allowed to practice independently in all states and Worthington D.C., nurse practitioners' ability to work independently varies from state to state and many states limit them to work under physician supervision and collaboration requirements.
Conclusion
The Healthcare industry is among the leading job providers in the world. There are different kinds of healthcare workers based on an individual's area of specialization. These healthcare providers have both similarities and differences. One similarity between nurse practitioners and physicians is that both work to improve patient outcomes. They have several differences including availability and flexibility, educational requirements, roles and responsibilities, prescription authority, and full practice authority. Although the differences exist, no career is less superior because they both have their areas of specialization. So, one may not be perfect without the other.
Reference
(List of References follows)
Also Read: