Get writing help on Evidence-Based Practice (EBP) and Nursing Research essay assignments
What is EBP? – Evidence-Based Practice (EBP) and Nursing Research
Evidence-Based Practice involves choosing the best practice, which has support, and then backing it up with a clear rationale. When using EBP, as a nurse, you work in favor of your patient or client's interest.
What does EBP entail?
In EBP, nurses should be able to clearly state their decisions, and show that they are well-thought-out. It also means that any care you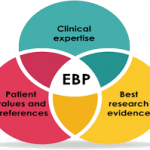 provide to an individual as a nurse should be based on evidence that already exists. Any advice given as a nurse must have evidence to back it up. Get Evidence-Based Practice (EBP) and Nursing Research Essay Help »
In as much as it helps protect the patient, it also helps a nurse always keep up to date with changing practices and policies.
EBP is carried out through the PICO or PICOT method;  The initials stand for Patient/Problem, Intervention, Comparison, and Outcome.
Help with Writing PICOT Nursing Questions? » Or Order an EBP related assignment now ».
For example;
Is there are a group of patients that have similar characteristics to your own patient? What are the traits that stand out to you most?
What next step do you want to take with the patient? What are you considering doing to him or her?
Look at the alternatives you have. Are they worth being considered?
What are you trying to improve or affect? In this case, in what state do you want your patient to be at the end of the day?
Trust TopNursingPapers.com EBP Writing Help
When it comes to any form of nursing research and writing, you need to ensure that you don't just choose anybody to work with. Considering the report will have an effect on your grade and eventually your GPA, you can only afford to work with the best. And that's TopNursingPapers.com.
When it comes to writing nursing research reports, we have a team of dedicated writers who are nurses by profession. This means that these nursing writers are people who have been where you are and understand what it takes to do nursing research and write a great report.
Evidence-Based Practice (EBP) and Nursing Research – Creating a culture for EBP
We offer a great turn-around-time, meaning we will write your paper well within the deadline you give us. What's more is that we will include a cover page, table of contents, and reference list all for free! This only helps you because, by the time we hand in your paper to you, all you'll need to do is read through it to ensure that everything is in order.